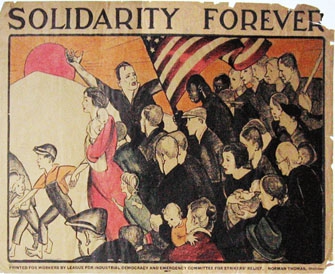 On a windblown, gray Chicago day 100 years ago, January 17, 1915, Ralph Chaplin left his home on the South Side for a raucous, poor person's rally at the city's famous women's center, Hull House. He asked a visiting friend he'd met organizing coal miners with Mother Jones to listen to the lyrics of a new tune he had been working on.
It is now one of the most beloved of all Union Hymns.
Solidarity Forever is also a beautiful example of the Folk Process. The melody was originally a camp meeting song, with lyrics "Oh, Brother will you meet me on Canaan's happy shore."
It was then borrowed for the marching song John Brown's Body during the American Civil War, and then refined as The Battle Hymn of the Republic.
The tune is now known and sung worldwide as a rallying inspiration for working people. When we sang it at the Labor Notes conference last Summer, it was in multiple languages simultaneously, and one of the most beautiful things I have ever heard.
Read the article: 'Solidarity Forever' Written 100 Years Ago, Today | Labor Notes.